No matter the size of your trailer, a vinyl graphics wrap can take your vehicle from bland to unforgettable. Whether you're on the move or parked, your design can attract prospective customers that pass by. And that's the core of it - trailer wraps and graphics help you earn more money and expand your brand.
Add a header to begin generating the table of contents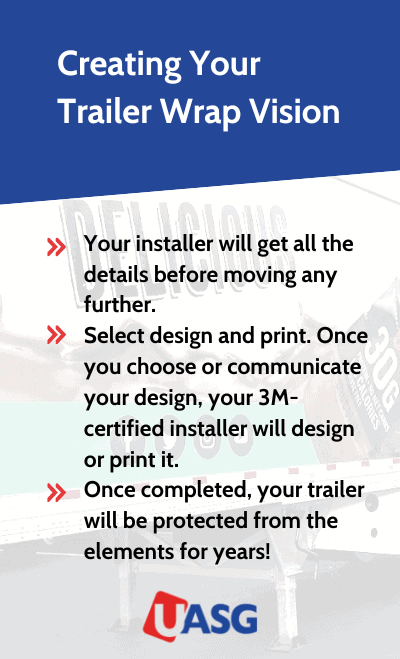 [*Photos of actual custom event graphics installed by UASG Certified Installers]
What's a Trailer Wrap?
A trailer wrap is a vinyl wrap for a trailer (surprise). You can transform your trailer into a well-protected, eye-catching billboard of sorts, with a custom wrap. This is thanks to the flexibility and durability of a vinyl wrap. Printed trailer graphics are a cost-efficient way to advertise your business or organization. You can inform and attract potential clients with your design, while also helping protect your trailer's exterior from the elements.
Here are some of the ways you can use trailer graphics to your advantage:
Why Use Trailer Graphics?
Raise Awareness for Your Business or Cause
Billboards and other forms of outdoor advertisements can be expensive and they only get you so much exposure. With a vinyl trailer wrap, advertising has never been easier. You can spread the word about your business everywhere you go - just by driving wherever you'd normally go. And not only that, a good, professionally installed wrap can easily last 5+ years.
You can select your brand's colors and the style of your wrap (sidenote - check out color changing wraps here). You can also share important information about your business such as contact information, hours, and more. Now, wrapping the exterior of a trailer in vinyl is just as eye-catching as a mural. But it's more versatile. You can select your style and finish, and change it as often as you'd like. Although a wrap is long-lasting, it doesn't have to be permanent.
Whether you own a business or a nonprofit organization, you want to grab as many eyes as possible. Including images and essential information on your trailer wrap can help capture that attention.
Protect Your Trailer
Vinyl trailer wraps protect your trailer's paint job from debris and UV rays. The strong vinyl help keep rocks, branches and hail from damaging your trailer. When you choose a professional to install your wrap, they'll use quality materials and do it right, so it should stay on between five and seven years.
Use the Power of Captive Audiences
Encompass Media Group says advertising on moving vehicles is the best way to get people to notice your business. The media group's study shows that each American takes about 1,500 trips on the road each year. When asked, 98% of people said they see the ads on trailer wraps. When you're stuck in traffic, it's hard not to notice trailer graphics that are vibrant and well-designed.
If a car goes 15,000 miles yearly, roughly 9 million people will look at it. What does that mean? Many people are learning about your business and what you sell or do when you use trailer graphics.
Reassure Neighbors When You're Parked
More people than ever are working from home. When they see a blank, plain trailer, it can be worrisome. They might get uncomfortable or even call the police. A huge, colorful design on your trailer with your logo and contact information solves this. They'll remember your trailer when they need a service you offer!
Ready to create your trailer graphics strategy? Contact one of our vetted installers today, and bring life to your wrap ideas.
Who Can Use Trailer Wraps?
The short answer: anybody who has a trailer!
If you have a trailer for your school's marching band equipment, you can use trailer wraps to make the band's trailer look absolutely stunning. No one needs to know it was a second-hand trailer. With an on-brand graphic design, it can look totally professional.
If you have a nonprofit organization feeding people in need, a beautiful trailer wrap will be an economical way to let people know you're there to help. It will alert people to your mission and become a beacon of relief wherever you go.
If you are a landscaper, you can get eyes on your logo and contact information in traffic and their neighborhood. You will be top of mind when they need a landscaping business. And a striking trailer wrap will make your business look successful and professional.
Installing a vinyl trailer wrap will increase your visibility in your area no matter what business you're in. It will help you achieve the success you deserve.
Creating Your Trailer Wrap Vision
Let's discuss the trailer graphics process from idea to installation. The steps vary since every trailer and business is unique. But here's the general process most installers follow to help you achieve your graphics vision:
Gather important information. What's your business or organization? What size is your trailer? Do you want the trailer wrapped completely? Your installer will get all the details before moving any further.
Select design and print. Once you choose or communicate your design, your 3M-certified installer will design or print it. Some installers can make just about anything, from simple and classic to realistic and astonishing. But not everybody designs graphics, so check with your installer before you commit. Once you review and approve, the design will be printed on sheets of vinyl with a special printer.
Install and enjoy. Your installer will clean your trailer and carefully install the vinyl wrap on it. How long this takes depends on a number of things including the size of your trailer and the installers and their methods. Once completed, your trailer will be protected from the elements for years!
Types of Customized Trailer Graphics
Make an impact with innovative graphics beyond a simple logo. There are countless ways you can decorate your trailer with vinyl graphics. Here are a few examples of trailers you can wrap:
Camping trailers
Cargo trailers
Catering trailers
Construction trailers
Home services company trailers
Enclosed trailers
Food truck trailers
Horse trailers
Landscaping trailers
Motocross trailers
Moving trailers
Race car trailers
Semi-truck trailers
Snowmobile trailers
Tractor-trailers
No matter your organization or company, if you have a trailer, it can be improved with a vinyl wrap. And you can trust that our 3M Certified Graphics Installation Companies will get it done right - the first time.
What is The
United Application
Standards Groups
The UASG is a national network of graphic installation companies. Our members are committed to installing your jobs better, on-time, within budget, as expected, and representing your company professionally.
To establish the standards for the graphics installation trade by cultivating quality, integrity, professionalism, reliability, and comradery among members.
To organize and promote the professionalism of graphics installation companies.
Professional Recognition
& Certification
Our standards are the highest in the industry. We're the benchmark for graphic installation excellence in fleet wraps, full & partial wraps, interior & exterior environmental graphics (including floor & rough textured walls) and virtually every other branding application.
A Nationwide Network
of Professionals
UASG member companies are industry professionals with ten, twenty, thirty years' experience that can provide experienced application services for vehicle wraps, window decals, wall graphics, boat wraps and just about anything graphic film will adhere to.
Providing The Best
In The Industry
The UASG has personally visited every member's business to view their operations and installation practices as part of the membership process. The UASG members have gone to 3M headquarters in St. Paul, MN and passed both a hands on and written test.