Add a header to begin generating the table of contents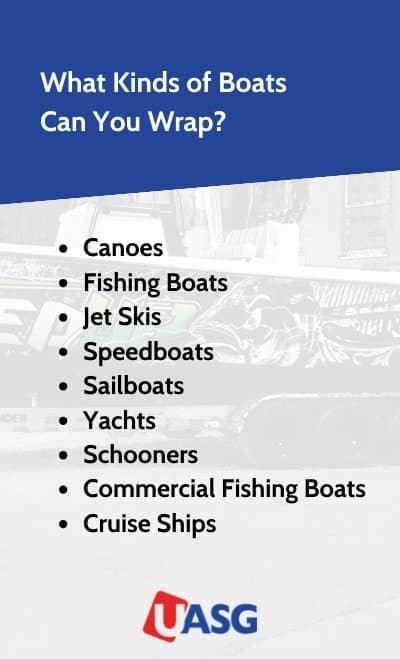 [*Photos of Boat Graphics Installed]
Have you ever caught a glimpse of a boat with color-shifting properties or a colorful, mesmerizing design? Chances are it was wrapped with vinyl boat graphics! Vinyl graphics are incredibly versatile and eye-catching too. They can look incredibly sharp and are often used by businesses and individuals who are looking to add that special touch to the design of their boats. Keep reading to learn all about boat wraps and why they're a great choice for businesses and individuals alike.
Find a UASG Certified Graphics Installation Company today to design a unique and beautiful boat wrap!
What Are Boat Wraps?
Vinyl boat wraps cover the surface of a boat - they can go on the outside and inside. They feature whatever design you want or need, and they're applied by professionals. These boat wraps transform the boat without having to paint or repaint it.
Where On A Boat Can You Put Vinyl Graphics?
Your watercraft becomes your canvas when you add vinyl graphics. You can put these versatile, flexible panels anywhere you please, for example:
Bow: Everyone will notice you heading their way when you install vinyl boat graphics on the front of your boat. This is a great place for lettering, logos, and graphics.
Stern: Vinyl graphics let you have the last word when you place them on the back of your boat.
Port or Starboard: The sides of the boat are the perfect location for logos or lettering to let everyone who sees the boat know who it belongs to and to spread whatever marketing message you choose.
The Entire Boat: Imagine what your boat's hull will look like from underwater when you cover the whole boat in vinyl graphics. And that's just a fraction of the benefits. Snorkelers and SCUBA divers will marvel at the beauty, but so will everyone else!
Why Would You Use Vinyl Boat Wraps?
Individuals can use boat wraps to protect their paint job. They can use them to temporarily change the boat's look, then remove the vinyl to return to the original paint job. This is much more affordable than repainting a boat!
Businesses use vinyl boat wraps for many reasons. They can advertise an event or their business or even rent ad space on a boat to other businesses. They can maximize their branding by ensuring their boat matches the trailer and the truck pulling it. They can protect the resale value of their boat by ensuring the original paint job gets an extra layer of protection from the vinyl wrap.
Find a 3M Certified Graphics Installation Company today!
Boat-Related Businesses That Use Boat Graphics
Sure, some businesses use boats that aren't seen by the public often. However, many boat-related businesses can increase brand visibility through vinyl boat graphics.
Some relevant boat businesses include:
Kayak, Canoe Or Fishing Boat Rentals
Professional or Collegiate Fishermen
Boating Class Business
Paddleboat or Pontoon Boat Rental Service
Boat Cleaning Service
Boat Storage Business
Boat Equipment Business
Boat Maintenance or Repair Business
Ferries, Water Taxis, and Other Boat Transportation
Boats of Tourism Companies
Boat Restaurants, Bars, and More
What Kinds of Boats Can Be Wrapped?
Most hard, non-porous surfaces can have a vinyl wrap applied to them. Your kayak, center console boat, pontoon - you name it. Other watercraft you can wrap include:
Canoes
Fishing Boats
Jet Skis
Speedboats
Sailboats
Yachts
Schooners
Commercial Fishing Boats
Cruise Ships
Advantages of Boat Wraps & Fishing Boat Wraps
Vinyl wraps can be used in many ways, and they're incredibly cost-effective with a huge ROI. Let's look at some of the many advantages of vinyl boat wraps. They are:
Customizable: If you can print it, you can put it on a vinyl wrap! Your logo, an eye-catching graphic, or a beautiful landscape can become part of your boat's design.
Scalable: You can start out simple, with stunning lettering, or go bananas with as many sparkles and details as any boat can handle.
Brandable: Your brand colors, logos, and other elements don't have to stop at the water's edge. Why not ensure your boat matches the rest of the business?
Removable: Is your event over? Are you ready for something else? Do you want to switch it up? You can easily remove your boat's vinyl wrap without causing damage.
Quick to Install: You can have vinyl wraps installed pretty quickly. Talk to your local installer to get the details, but it may be faster than you think.
Affordable: A full-size vinyl boat wrap is significantly less expensive than a traditional repaint or lettering.
Economical: Vinyl wrap protects your original paint job from scratches and UV damage from the sun.
Environmentally Conscious: Vinyl wrap installation is free of solvents or harsh chemicals. Unlike traditional paint, vinyl wraps don't emit fumes or contaminate the water.
Have you seen color-shifting car wraps? Discover more here.
Are Boat Graphics Effective?
It's true, we're bombarded by information daily - ads, marketing images and all sorts of interruptions. In such a saturated market, it can be challenging to stand out.
We see logos on our food and drinks, computers, smartphones, and billboards. We get used to them. But when ads are on a moving vehicle, people take notice - at least, that's what the studies say.
Outdoor vehicle advertising studies show that vinyl wraps on vehicles like cars, trucks, buses, and boats can get 30,000 to 70,000 impressions daily. And these kinds of ads have some of the lowest cost-per-impression of any kind of ad, at around 45 cents.
While vinyl wraps on boats aren't unheard of, they're less common than truck wraps. If your boat has a quality vinyl wrap, it'll get that much more attention!
Reach out to a UASG Certified Graphics Installation Company today.
How Do I Get My Boat Ready For Installing A Boat Wrap?
There are a few simple steps to ensure your boat is prepped and ready for its vinyl wrap, no matter the size. Discuss this with your installation company ahead of time, but generally, the steps are as follows:
Measure your boat and share your measurements with your graphic designer.
Remove any hardware like handles, hooks, and rub rails.
Remove any old decals, stickers, or vinyl.
Wash the entire boat with liquid soap and a microfiber cloth.
Treat the surface with an alcohol wipe as a finishing touch.
How Long Will a Boat Wrap Last?
Vinyl boat wraps are subjected to the elements a bit more than many other forms of outdoor vehicle advertising. However, if you take good care of your boat and get a high-quality installation, your vinyl wrap will likely last five to seven years.
Where Can You Have Vinyl Boat Wraps Installed?
We help you find the best, 3m certified installers the industry has to offer. Our members are the best thanks to thorough training, testing, and vigorous vetting. (Learn more about what sets our installers apart.)
Your boat must come back on land to have its vinyl wrap installed. Water, dust, and particles can prevent the best possible adhesion of your vinyl wrap, so it needs to be in the proper environment. Our professional installers apply vinyl graphics in a work bay with the ideal environment for wrapping your boat.
How Much Does Vinyl Boat Wrap Cost Compared to Painting?
This can vary, but generally, a full wrap (hull included) will usually cost much less than a professional paint job.
How Do I Care For My Vinyl Boat Wrap?
Avoid harsh brushes, sponges, and chemicals. A specialized vinyl cleaner and a soft cloth or microfiber towel are all you need to keep your boat wrap clean and looking its best.
What Do I Do If My Vinyl Boat Wrap Gets Damaged?
For small tears or rips, you can potentially patch them with a piece of vinyl that matches. If you have a large tear or rip, contact your installer, who can reapply or repair the vinyl quickly.
UASG Is Here To Help!
Whether you're starting from square one or have a solid vision for your vinyl boat wraps, UASG will guide you through every step. Boat wraps have the advantages of other outdoor auto advertising. They have the perk of grabbing all sorts of attention, whether on land or at sea. A 3M Certified Graphics Installation Company can help you with your boat graphics goals, whether it's a partial wrap or a complete hull wrap.
Did you know? UASG is a nationwide network of companies specializing in graphics installation. Our rigorous standards mean only the best graphics installation pros join our team. With one of our network partners, your work will be professional, which means you'll be on budget, and on time.
Get in touch with a UASG-certified graphics installer and get one step closer to fulfilling your boat graphics dreams today!
What is The
United Application
Standards Groups
The UASG is a national network of graphic installation companies. Our members are committed to installing your jobs better, on-time, within budget, as expected, and representing your company professionally.
To establish the standards for the graphics installation trade by cultivating quality, integrity, professionalism, reliability, and comradery among members.
To organize and promote the professionalism of graphics installation companies.
Professional Recognition
& Certification
Our standards are the highest in the industry. We're the benchmark for graphic installation excellence in fleet wraps, full & partial wraps, interior & exterior environmental graphics (including floor & rough textured walls) and virtually every other branding application.
A Nationwide Network
of Professionals
UASG member companies are industry professionals with ten, twenty, thirty years' experience that can provide experienced application services for vehicle wraps, window decals, wall graphics, boat wraps and just about anything graphic film will adhere to.
Providing The Best
In The Industry
The UASG has personally visited every member's business to view their operations and installation practices as part of the membership process. The UASG members have gone to 3M headquarters in St. Paul, MN and passed both a hands on and written test.