Add a header to begin generating the table of contents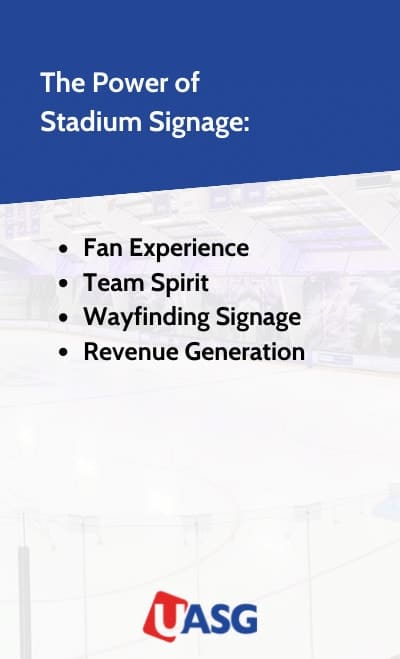 [*Photos of Stadium Signage Installed]
Imagine being at your favorite sporting event, surrounded by a sea of energized fans cheering for their team. Now, picture the stadium itself - there are usually vibrant colors, bold graphics, and eye-catching displays that create an unforgettable atmosphere. That's the power of stadium signage! In today's competitive world of sports, maximizing brand visibility with stadium signage wraps is essential. Are you ready to dive into the world of stadium wraps and unlock their full potential?
What Are Stadium Vinyl Wraps?
Stadium wraps are a game-changing element of sports stadium signage solutions. These large graphics, constructed from heavy-duty vinyl material, can be attached to numerous surfaces within stadiums for dynamic branding and promotion of the team or its sponsors. Where exactly? Entrance gates, concourse walls, exterior walls of the stadium, tunnels and player entrances, staircases and ramps, scoreboards, concession stands, restrooms, parking areas, and so many other spaces.
Stadium graphics can showcase both a brand's image and team spirit effectively. Because they're so versatile they can be changed as needed and enhance the overall look and feel of the stadium.
The Power of Stadium Signage
Custom signage in a stadium can provide an incredible, immersive experience for sports fans at any sporting event. This is beneficial because it not only leaves a lasting impression on visitors but also helps to generate revenue through sponsorships and advertising. Having the right type of sign within your stadium can help fuel team spirit throughout the crowd too! Ultimately, signage has become an integral component of stadiums. It aids in the success of athletic competitions by enhancing fan experiences while also bringing financial opportunities as well. Here's a little more on the topic:
Fan Experience
Stadium signs are a great way to make an ordinary sports stadium into a truly captivating venue for fans. Digital signage, with personalized content and real-time stats displayed on them, is one really important aspect. But so are vinyl wraps and graphics. They enhance the facility giving it added flair that enlivens the fan experience. Branded graphics create emotional connections between spectators and their favorite team or event, strengthening loyalty in many ways.
Directional information provided by wayfinding signs assists visitors in navigating through the stadium quickly. Allowing the spectator to enjoy the event as much as possible rather than spending their time aimlessly trying to find their way.
Team Spirit
Stadium signage is not only used for entertainment and direction, but it also greatly contributes to the bolstering of team spirit. Through bright colors, logos, and player images displayed using creative graphics these signs provide an identity and connection with fans.
Wayfinding Signage
Directional information provided by wayfinding signs assists visitors in navigating through the stadium quickly. Allowing the spectator to enjoy the event as much as possible rather than spending their time aimlessly trying to find their way.
This includes signs, arrows, and other visuals that help visitors find their way around the space without hassle or difficulty. By assisting fans in locating key features such as seats, restrooms, and concession stands with ease, they're likely to have a better experience.
Revenue Generation
Wisely investing in high-quality stadium signage can have a considerable impact on teams as well as spectators alike. Stadium wraps are highly sought-after by sponsors or advertisers who aim to create brand visibility through the promotion of their products and services. Stadiums that form partnerships with sponsors are able to earn income which can contribute greatly in terms of future improvements to the stadium and making sure that its status as a popular destination for sports events is maintained.
All in all, investing in stadium signage generally proves beneficial both financially (through revenue) and emotionally (for the fan experience), ultimately providing a win-win situation between the parties involved.
Click here to get in touch with a UASG 3M certified graphics installation company to get started.
Creative Stadium Branding Ideas
Want to take things to another level? To really boost the fan experience and up brand visibility through creative branding, you may want to consider decorating walls with murals or artwork. Or adorning press boxes and VIP sections with high-impact designs. Let's talk about it...
Wall Murals and Art Installations
When it comes to stadium branding, wall murals and art installations can serve as a strong visual element that adds an impressive touch to the atmosphere of your venue. These big graphics or artwork pieces can display team history, successes, or even regional culture which transforms bare walls into interesting areas for visitors and supporters alike.
By adding elements like these to your branding initiative you're able to create a one-of-a-kind experience that will really be remembered by fans. An impressive graphic may even act as a conversation starter, which can get traction on social media and increase brand visibility among different audiences.
Press Box and VIP Area Branding
Branding the press box and VIP area is an effective way to effectively promote your stadium's image. By incorporating distinct signage, logos, and graphics into these areas you create a unique atmosphere tailored for important guests and media that they too can appreciate.
High-Impact Graphics in Key Locations
Branding a stadium is essential to creating an atmosphere that resonates with fans and visitors. By strategically placing high-impact graphics in key locations like entryways, concession stands, wayfinding signs, window frames & more, your team or brand message can be clearly seen by those who pass through the venue. Give spectators something to remember!
The brand opportunities in a stadium are virtually endless so investing in powerful visuals helps achieve better success from attendance numbers up to merchandise sales.
Partnering with a UASG 3M Certified Graphics Installation Company
For the best possible results with your stadium signage, we recommend partnering with a UASG 3M certified graphics installation company. These specialists boast profound knowledge and experience in graphics installation while also abiding by strict standards of excellence.
UASG certification is a mark of quality and professionalism that we and our members don't take lightly. Our 3M certified installers have proven their expertise and commitment to industry standards. Each member has been in business for a minimum of three years (many have been in business for much longer - even decades!), has passed testing at 3M's headquarters, has participated in our rigorous training program, and abides by high professional and personal principles to retain their membership.
So what are you waiting for? Stadium vinyl wraps are a game-changer when it comes to sprucing up sports venues. You can utilize them on walls, floors, or even the concession stand to pump up team spirit and get people talking. It's all about making the stadium experience unforgettable, and with vinyl wraps the possibilities are practically endless. Contact a UASG 3M certified graphics installation company today to get started!
What is The
United Application
Standards Groups
The UASG is a national network of graphic installation companies. Our members are committed to installing your jobs better, on-time, within budget, as expected, and representing your company professionally.
To establish the standards for the graphics installation trade by cultivating quality, integrity, professionalism, reliability, and comradery among members.
To organize and promote the professionalism of graphics installation companies.
Professional Recognition
& Certification
Our standards are the highest in the industry. We're the benchmark for graphic installation excellence in fleet wraps, full & partial wraps, interior & exterior environmental graphics (including floor & rough textured walls) and virtually every other branding application.
A Nationwide Network
of Professionals
UASG member companies are industry professionals with ten, twenty, thirty years' experience that can provide experienced application services for vehicle wraps, window decals, wall graphics, boat wraps and just about anything graphic film will adhere to.
Providing The Best
In The Industry
The UASG has personally visited every member's business to view their operations and installation practices as part of the membership process. The UASG members have gone to 3M headquarters in St. Paul, MN and passed both a hands on and written test.